Two of my favorite things in the world have combined this season to create the Holy Grail of all handbags -- the
Balenciaga Pommier City
! Isn't she a beauty??
Balenciaga bags are known for using the softest, smooshiest leather known to man. The leather is thick, but soft. It is "veiny" and with use, the leather starts to look even more amazing. Every season, they come out with a different palette of delicious colors for their handbags. For Autumn/Winter 2009, one of their new colors is Pommier. It is a gorgeous deep/medium saturated green.
The City is probably the most popular style from Balenciaga. It is a medium-sized satchel with a detachable hobo strap. It is large enough to fit everything you need, but it is small enough to be a manageable size for everyday use. The bags are very lightweight as well. I am lucky enough to own an
09 Sanguine City
: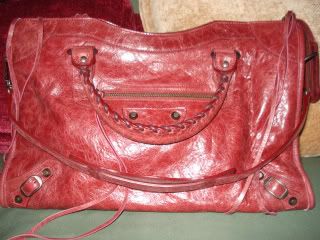 I love love love my Sanguine City! She is the most gorgeous shade of red, and has been broken in quite nicely. I am super anal about the maintenance of my handbags, so once a season, she gets conditioned with Apple Garde Leather Moisturizer, and she gets sprayed with a water/stain repellent.
Now, you are probably wondering why ANYONE would want or need the same bag in different colors. I wish I had an answer that didn't make people look at me like I had six heads. Honestly, no one NEEDS more than one. Honestly, people don't even need one. However, there are some hardcore BBag fans out there who collect hard-to-find colors and styles. I've seen some women own dozens of Citys, all in different colors! Sometimes, I will come across a BBag on eBay or elsewhere that is actually selling for
more
than its retail price, because they are a retired color! So yes, there are definitely some people out there who are overly passionate about their handbags (and my friends thought *I* was bad!).
But, unfortunately, for me, one will have to suffice for now. After all, this gal has got a mortgage to pay!
If you want to find out more about Balenciaga, you can find them at most high-end department stores, like Neiman Marcus, Barney's, Saks Fifth Avenue, Bergdorf, etc. Selection varies by store. The only place near me that carries Balenciaga is Barney's, so I have to buying mine online, since Barney's only seems to carry the boring colors, like black, white, etc. The City retails for about $1400 (yes, you read that correctly), but can be more if there is specialty hardware on it :-)