Like any other girl out there, in addition to makeup and handbags, the other big love of my life is -- CLOTHES! Well, specifically,
jeans
. I am a big sucker for designer jeans. I probably own about 200 pairs of Seven for all Mankind, True Religion, Rock & Republic, William Rast, Citizens of Humanity, Paige, Diesel, etc. A lot of people ask me how I manage to wear all my jeans. In all honesty, I can't and I don't. There are many pairs that I haven't worn in months/years, and some pairs that I haven't worn
at all
yet. But, I still like having them and I do wear them when I get the chance. When I have a "casual" day at work, I'll wear jeans, and I wear them on weekends. However, I can go months at a time not wearing jeans at all. When the weather is nice here in the good ol' Northeast, the last thing I want to do is wear jeans. From about mid-May until the end of August, I don't wear jeans at all. I'll wear dresses, skirts, shorts, crops, etc., but no jeans because I can't stand sweating in them. Ewe!
Anyway, here is one of my recent purchases that I am still drooling over because they're so gorgeous: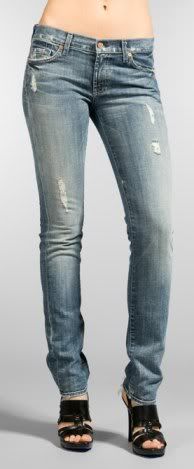 Those are 7FAM Straight Leg jeans in Vintage Nakita wash. I generally do NOT like any sort of distressing, rips, etc. in my jeans, because I have this neurotic fear of ripping the distressing. But, I will make an exception to that rule when I genuinely fall in love with something, and these are awesome! The fit is amazing, the wash is incredibly soft, and I like the straight leg style. I'm normally a bootcut/flare girl, but these are just the right amount of straight leg without being suffocating-my-calves-tight. I just hemmed them the other night (I am super short and have to hem EVERYTHING), so I haven't had a chance to wear them yet. But, now that fall is here, I have a feeling these will be perfect for lounging around, and also for tucking into a cute pair of boots!
Also, I got my Halloween costume last night. I hate how the costume choices for women always seem to revolve around wearing something as short and slutty as possible. When it's only about 40* outside in October, that really is not a good option for me (well, that and the fact that girls my age shouldn't be wearing that sh*t!). But, after about an hour looking around a Halloween store, I found something I really like, and it's pretty without being skanky. I found a really pretty goddess costume that fits me well. It's a little long on me, but I don't feel like hemming, so I'll just wear them with some heels (I have some awesome gold strappy Christian Louboutins that I'm considering wearing with them). Anyway, I'll have to post pics after Halloween! In the meantime, I need to find some goddess jewelry/accessories to match my costume :-D