Wow, it's been a while since I've posted anything except nails! So, it's time to dedicate some blog space to one of the other loves of my life - SHOES! I mean, every girl loves shoes, right??
Coach recently had a shoe sale on a lot of their winter styles and I picked up a few pairs of high-heeled booties. The first is the Brandie, and I got them in *both* gray and black, because I couldn't decide which color I liked better :-P I've been lemming after this boot for a while, but at $218 retail, I couldn't justify the cost. Also, an open-toed bootie seems ridiculous to me. You're supposed to wear boots in the fall/winter, but come that time, it is far to cold to wear anything open-toe. Also, they have a stiletto heel and non-grip soles, so I had NO clue when I was going to wear these. But, they were just too gorgeous to pass up, so I had to snatch them when they went on sale. And, at almost 50% off, I practically got both pairs for the price of one :-D My fellow shopaholics have got to appreciate that!
My next boot purchase was a little more practical -- they're called the Alexandria and they come in both brown and black. I got the black: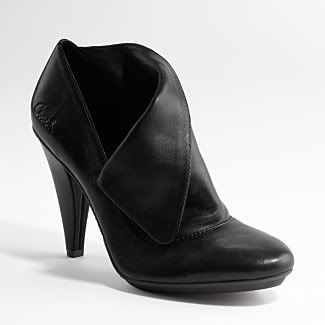 This boot is made from the softest, most buttery nappa leather. It also has a stacked heel, which makes it more comfortable than a stiletto heel, and the bottoms are rubber, so I can walk around without fear of faceplanting on the sidewalk. They are also SUPER comfortable. They look great with a pair of jeans, or dressed up with a skirt or black slacks. I love versatility :-)
Okay, no more shoes for a while. I've had about as enough as I can stand, and now that snow will be a permanent fixture on the sidewalks and streets for the next two months, my Uggs are just about all I wear every day. Brrrr!